The Lincoln MKT & Lincoln Navigator: which three-row vehicle is right for you?
At Forrester Lincoln we love offering large and luxurious models that help families travel in spacious style. If you're looking for a bigger vehicle that can fit everyone and their gear, then stop into our Chambersburg Location to see the three-row Lincoln MKT crossover and iconic Lincoln Navigator SUV!
On this page, we'll discuss the differences between the two and help you decide which one is the best fit for your family, needs, and stylistic preferences.

Why do you want a three-row vehicle?
Before you start shopping for a three-row crossover or SUV, it's important to keep in mind why you want the third row. Is it for occasional carpooling for school events or if the grandchildren are visiting? Do you want to keep the third-row folded flat most of the time and get extra cargo space? Or do you have a big family and need to use those seats full-time?
If the first two examples align with your needs, then either option is fine. Simply choose the one that has enough room for your gear. With the third-row down in the Lincoln MKT you'll get 39.6 cubic feet of cargo space and with the Lincoln Navigator you'll get 57.5 cubic feet of space.
Now if you need to use all the seats most of the time then you'll probably want to consider the Lincoln Navigator for two reasons. The first is because you can seat up to 8 passengers, whereas the Lincoln MKT seats up to 7. Another reason is because you'll get more third-row legroom in the Lincoln Navigator. There's 36.1-inches compared to 33-inches on the Lincoln MKT. That extra leg space will be appreciated by all passengers, especially taller teens or full-grown adults who might have to sit out back for shorter jaunts.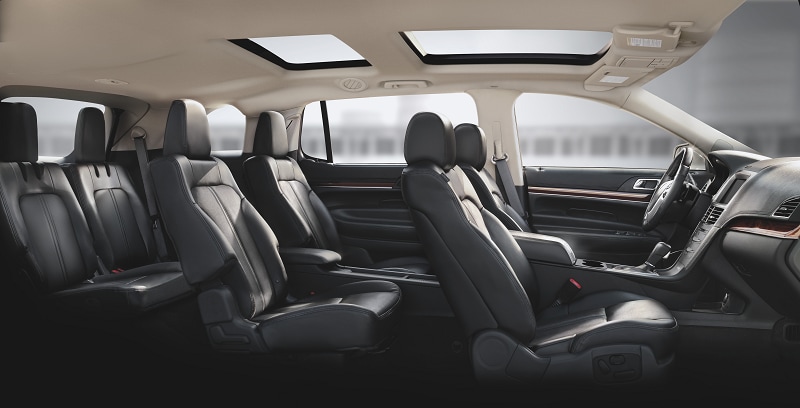 Understanding the specs
We went over some major specs for the two models, but let's take a more comprehensive look.
Here are the specs for the Lincoln MKT:
Length: 207.6-inches
Height: 67.4-inches
Width (including mirrors): 85.7-inches
Cargo space (behind 1st/2nd/3rd row): 75.9/39.6/17.9 cubic feet
Here are the specs for the Lincoln Navigator:
Length: 210-inches
Height: 76.4-inches
Width (including mirrors): 93.8-inches
Cargo space (behind 1st/2nd/3rd row): 103.3/57.5/19.3 cubic feet
It's also worth noting that this SUV also comes in an extended length, and it's called the Lincoln Navigator L.  The extended length doesn't actually influence the cargo capabilities or legroom, but it does change up the exterior appearance, of course, and tow ratings.
Naturally, the Lincoln MKT will be an easier vehicle to maneuver, especially in a busy area like downtown Hagerstown. This ease might be more appealing to you as a shopper. However, if you really want to stand out and make your commanding presence known in Greencastle or Waynesboro PA known then the Lincoln Navigator will do just that.
Towing
Shoppers looking for a three-row vehicle often like having towing capabilities. Whether you're bringing a camper, boat, or trailer from your Hagerstown home to its destination, you'll want to make sure the vehicle you choose is up to the task.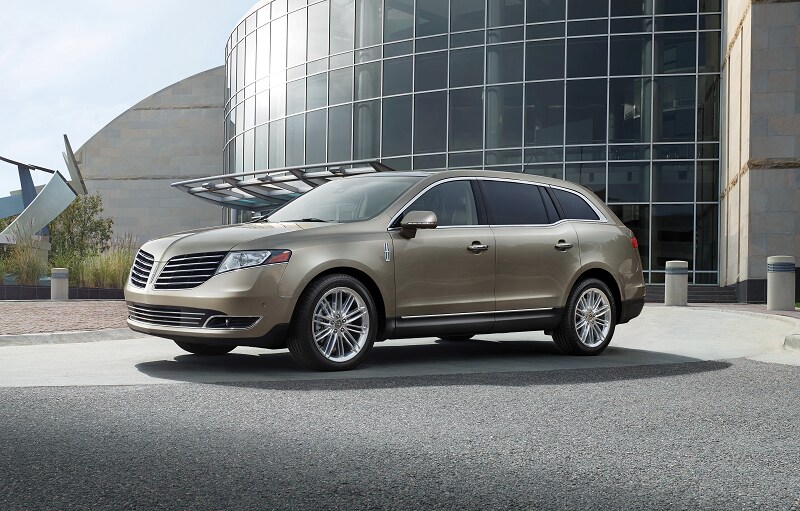 Select Lincoln MKT trims can get an available Class III Trailer Tow package, giving it the ability to tow up to 4,500 pounds. If you and your family need more grunt, go with the Lincoln Navigator. With the RWD model you can tow up to 8,700 pounds and with the 4WD up to 8,300 pounds! Those numbers are more than some trucks, plus you get to bring the family along for a more comfortable ride. The extended version has slightly lower ratings, though they're still above 8,000 pounds.
If you're ready to start shopping for a vehicle that has space for all, along with luxurious amenities, then visit our dealership this week to test drive either the Lincoln MKT or the Lincoln Navigator.
Make an Inquiry